A 6 Part Journey to change your life
When I first started my Mindfulness journey, I was totally throwing darts in the dark. I didn't know what I was doing or if I was doing it "right." Through attending Zen meditation centers, reading books, listening to some of the most profound teachers, and just diving in, I learned a ton.
I cannot wait to pass this on to you in a way that is not only guided, but to provide access to me so we can be on this journey together.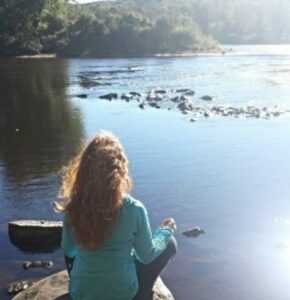 How the OMM Membership works
You'll get immediate access to
the One Moment Mindfulness Path – a 6 step journey to your best life

your own membership portal

the Private Group on Facebook

past OMM content (binge on the videos and meditations all you want!)
Each step of the journey will include…
Videos with information and real-life tips and tricks

Downloadable mantras

Recorded Meditations

Journal prompts

Ongoing support from the group and access to me!

And more (I love to over deliver!)
Choose how you do it!
Each week you'll receive an email with the next step on the journey.
Or you can dive in wherever you'd like and revisit content as you'll have immediate access to it all in your membership account area.
More than a Membership.  OMM is a community of like minded folks ready to live life more grounded, balanced and at peace… no matter what
OMM Membership is a place for discussion, support, and a space to learn without judgment or pressure.
When you're an OMM Member, you also get
 First notice and dibs at registration for upcoming OMC events and OMM Member exclusive pricing

Bonuses as we go along….'cause I love to bring you the best!
You know the benefits of Mindfulnes, BUT….it's hard to stick with a practice all alone.
AND….it's confusing to know what to do when in your journey.
PLUS….it's hard to look all this up when you don't have much time to begin with.
I totally get it. Been there, done that.
In the One Moment Mindfulness Membership  you are always supported, guided, and I will bring the consistency to you. 
Ready to join?
You can get in now as an OMM Founding Member for only $108 for 6 months
(that's only$18/month!)
The doors close November 1, and never again at this price.
Click here and let's begin our journey together!